Advantage Conveyor, Inc.
8816-C Gulf Ct.
Raleigh, NC 27617
Phone: 919-781-0055
Fax: 919-787-8000




What's New
Advantage Conveyor's food grade belt conveyors are custom designed to meet your specific production requirements. Designed to meet the most stringent sanitation requirements, they are used in the food processing, pharmaceutical and medical industries. Our custom belt conveyors provide efficient loading, sorting and packaging and can be designed to handle products or packages of all sizes and shapes. They can be integrated with metal detectors, transfer and packaging systems to accommodate your process application needs.


Processing - Sanitary & Hygienic Belting
Sanitary belting for raw peanuts
Features of our sanitary and hygienic belt conveyors include:
High quality food-grade endless belting

Level and incline configurations

Stainless steel construction and enclosed drives provide easy cleaning

Adjustable speed drives

Modular construction, allowing for flexible configurations and integration with additional processing lines and components.

Multiple guiderail and frame options

Selection of reject options, including belt stops, air blast rejection, pusher rejection, alarms and retracting band rejection

Variety of transfer options, including gravity and powered transfers, to accommodate your production process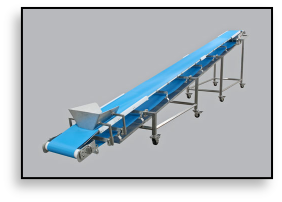 Call or email us today to discuss your requirements, using either the Contact info below, or by filling out the short form on our Contact Us page.
Have an upcoming project? Fill out the form on our RFQ page with as much or as little info as you want. We will review it and an engineer will get back in touch with you to thoroughly go over the details of your project.
Be sure to click on the links below to follow us on Facebook and YouTube.
Let Us Show You the Value of Advantage Conveyor Products
Portable food-grade incline conveyor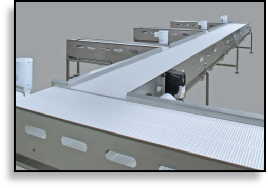 Washdown Intralox Series 90