Advantage Conveyor, Inc.
8816-C Gulf Ct.
Raleigh, NC 27617
Phone: 919-781-0055
Fax: 919-787-8000




What's New
Advantage Conveyor manufactures modular tabletop conveyors, offering a range of custom configurations. We offer automated material handling solutions for a wide variety of applications, including packaging, beverage, pharmaceutical, consumer product, cans and paper products. With over 25 years of experience, we can provide you with a custom tabletop conveyor that meets your production requirements, allowing your line to move smoothly and efficiently.
We manufacture side flexing and straight tabletop conveyor systems, offering custom engineered solutions for your production process.


Packaging - Tabletop
880-K325 Tabletop on Casters
Features of our tabletop conveyors include:
Light and heavy duty models provide handling for all products, from small, unstable containers to large packages

Modular construction to provide maximum flexibility

In-house custom fabrication to exact requirements

Variety of drives to provide the speed or speeds required for your process line

Variety of transfer options, including gravity and powered transfers, to accommodate your production process

Variety of guiderail options to keep products upright and in proper position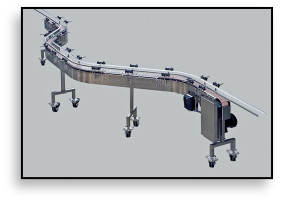 Call or email us today to discuss your requirements, using either the Contact info below, or by filling out the short form on our Contact Us page.
Have an upcoming project? Fill out the form on our RFQ page with as much or as little info as you want. We will review it and an engineer will get back in touch with you to thoroughly go over the details of your project.
Be sure to click on the links below to follow us on Facebook and YouTube.
Let Us Show You the Value of Advantage Conveyor Products
831-K450 Tabletop PTU Section
880-K325 Tabletop with Dust Hood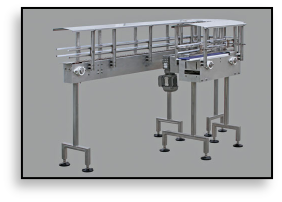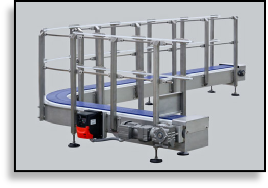 Series 4092 Cylinder Conveyor