Advantage Conveyor, Inc.
8816-C Gulf Ct.
Raleigh, NC 27617
Phone: 919-781-0055
Fax: 919-787-8000




Advantage Conveyor manufactures custom modular plastic belt conveyors for applications that require sanitary conditions for food or pharmaceutical processing. Our plastic belt conveyors can be custom designed to meet your exact processing requirements and are available in a wide variety of configurations. With over 20 years of experience, we can provide you with a custom conveyor that meets your production requirements, allowing your line to move smoothly and efficiently.
We offer modular conveyors in radius, straight, low back pressure and ARB configurations and will design a custom engineered solution for your production process.


Packaging & Processing - Modular Plastic Belting
Features of our custom plastic belt conveyors include:
Modular construction to provide maximum flexibility

Light and heavy duty configurations to handle small products such as vials to large containers filled with heavy liquids

High quality plastic belting, including plastic chain, solid plastic belt and open grid plastic belt

Variety of drives to provide the speed or speeds required for your process line

Transfer options, including gravity and powered transfers, to accom-modate your production process

Variety of guiderail options to keep products upright and in proper position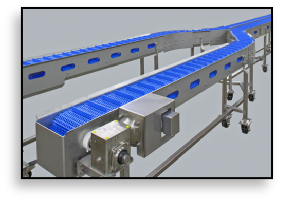 Call or email us today to discuss your requirements, using either the Contact info below, or by filling out the short form on our Contact Us page.
Have an upcoming project? Fill out the form on our RFQ page with as much or as little info as you want. We will review it and an engineer will get back in touch with you to thoroughly go over the details of your project.
Be sure to click on the links below to follow us on Facebook and YouTube.
Let Us Show You the Value of Advantage Conveyor Products
Series 900 Washdown Conveyor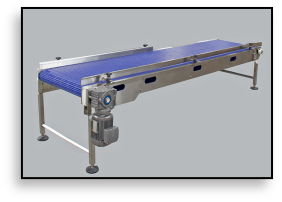 Dynamic Transfer Recirculation Line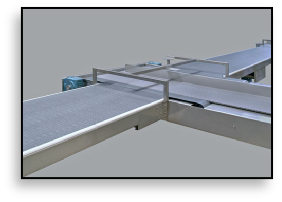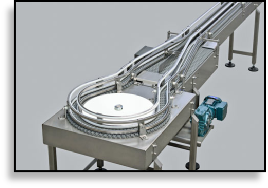 Series 2400 Puck Handling Conveyor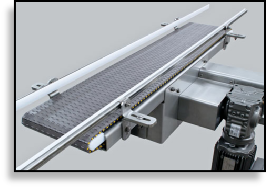 Series 1505 Nosebar Conveyor
Testing incline conveyor with Intralox 1600 belt and 4" flights, with an elevation change of approximately 20 feet.