Advantage Conveyor, Inc.
8816-C Gulf Ct.
Raleigh, NC 27617
Phone: 919-781-0055
Fax: 919-787-8000





Cooling conveyors are used to move foundry molds, die cast parts and heated parts through a cooling process. These cooling processes can include water bath tanks, internal cooling fans, overhead fans and chilled air systems. Each has different, demanding design and manufacturing requirements to ensure low maintenance, high performance operations.
Advantage Conveyor's in-house fabricating services provide high quality customization of your cooling conveyors to your exact specifications. Our custom designs ensure that your cooling conveyor will integrate smoothly with either your existing conveyor, or new systems and processes.

Packaging & Processing - Cooling Conveyors
Our line of cooling conveyors include:
Water bath tanks – The conveyor moves through the bath, providing rapid parts cooling using water. Constructed with stainless steel, with optional cooling coils and variable drain options.

Internal cooling fans – Fans move cooling air through the conveyor belting.

Overhead cooling fans – Fans installed over the conveyor line provide cooling and can be integrated with existing conveyor lines.

Chilled air – Temperature-controlled air provides rapid part cooling.
Cooling conveyors can be integrated with drying and parts washing equipment.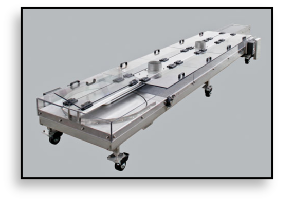 Call or email us today to discuss your requirements, using either the Contact info below, or by filling out the short form on our Contact Us page.
Have an upcoming project? Fill out the form on our RFQ page with as much or as little info as you want. We will review it and an engineer will get back in touch with you to thoroughly go over the details of your project.
Be sure to click on the links below to follow us on Facebook and YouTube.
Let Us Show You the Value of Advantage Conveyor Products
Serpentine Cooling Conveyor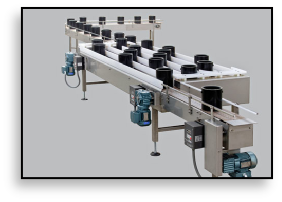 Serpentine Cooling Conveyor,
Opposite View