Advantage Conveyor, Inc.
8816-C Gulf Ct.
Raleigh, NC 27617
Phone: 919-781-0055
Fax: 919-787-8000





Advantage Conveyor offers full turn-key solutions; taking you from a conceptual layout to a fully installed, ready to use solution. We want to be considered your partner and as such, it is not unusual for our engineers to meet with you early on in the project, often making site visits to ensure that everything you want to accomplish will be done in the most logical, efficient way possible: thorough measurements made, obstacles noted, current and future expansion discussed. Because all of our systems are custom made, we can tailor a project to your specific needs, taking into account any specialized power, safety or sanitation requirements.


Engineering & System Integration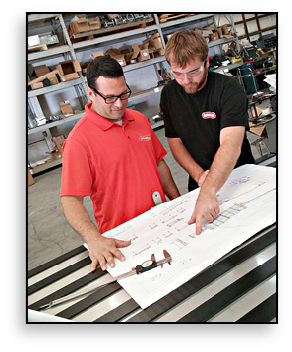 Some of what we can provide you:
A full complement of CAD and 3D services

Design of a Turn Key System

Sourcing and integrating components supplied by others

Scheduling In-House fabrication & assembly

Factory Acceptance Testing

Coordination of Shipping and Installation Crews

Installation and/or Installation Supervision

Start Up Assistance

Follow Up Support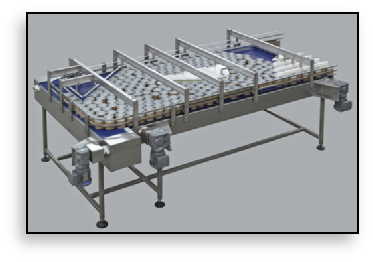 Problem: Our customer asked us to improve their process of distributing to four fillers from a single infeed lane. They had a Servo laner that caused problems with both product jamming and downtime due to both mechanical and electrical failure.
Let Us Show You the Value of Advantage Conveyor Products
Call or email us today to discuss your requirements, using either the Contact info below, or by filling out the short form on our Contact Us page.
Have an upcoming project? Fill out the form on our RFQ page with as much or as little info as you want. We will review it and an engineer will get back in touch with you to thoroughly go over the details of your project.
Be sure to click on the links below to follow us on Facebook and YouTube.
Steve & Bennett from our engineering staff, discussing assembly of accumulation table.
Concept to Finished Product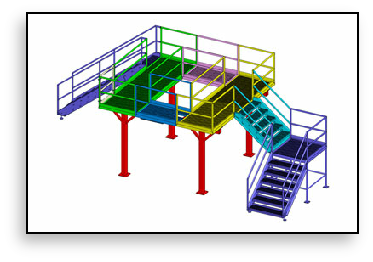 Solution: Starting with a SolidWorks drawing, based on our engineer's notes, we then transferred the information to CAD. Platform was then fabricated as a modular system, allowing bolt and unbolt ease as expansion and reconfiguration was required. This same modular nature was intelligently configured as a way to economically transport the sections from our shop to the client's facility.
Problem: Client needed a platform system that could start with a basic platform and expand as their needs required.
Solution: We presented to them a product re-circulation table that used a waterfall system to distribute to all four lanes. This solution completely eliminated controls and its simple, elegant design minimized moving parts. The end result was a 50% increase in line production and minimal downtime.
Video showing the finished Single Lane to Four Filler solution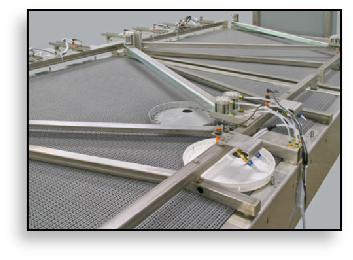 When your project requires it, Advantage has a full arsenal of automation techniques at our disposal. We utilize everything from mechanically-timed devices to PLCs, and anything in between.
If your project requires sorting, diverting, indexing, detecting, depalletizing or switching, for example, we can ensure that your conveyance problem is given an elegant solution.
Full Panel: Interior view of the panel that runs the Lid Sorter mentioned above. Note the clean, logical design of components and runs.
To see more images of this system, Click Here
Automated Lid Sorter: For this large sorting table, automatic controls were designed to provide sorting based on differences in both size and color.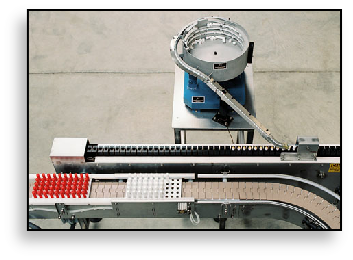 Automated System: Filled-tube puck conveyor for lip balm. Automation was required to ensure accurate cap feeding, placement and closure. This eliminated the tedious and time-consuming task to cap the finished product by hand.
Video showing pneumatically-actuated lane switching.