Advantage Conveyor, Inc.
8816-C Gulf Ct.
Raleigh, NC 27617
Phone: 919-781-0055
Fax: 919-787-8000




What's New
Call or email us today to discuss your requirements, using either the Contact info below, or by filling out the short form on our Contact Us page.
Have an upcoming project? Fill out the form on our RFQ page with as much or as little info as you want. We will review it and an engineer will get back in touch with you to thoroughly go over the details of your project.
Be sure to click on the links below to follow us on Facebook and YouTube.
Let Us Show You the Value of Advantage Conveyor Products
Please call today at 919-781-0055
to talk to us about your requirements
To enjoy this comic-relief clip in full size and with sound, click here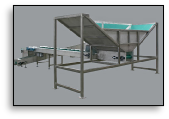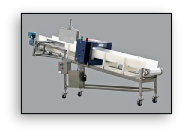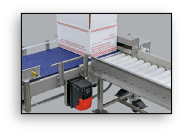 With over 25 years of experience as a leading manufacturer of custom and modular conveying equipment for food & beverage, pharmaceutical, cosmetic and consumer industries, Advantage Conveyor can provide you with a solution that is tailor-made to address your exact production demands. We produce everything from standard tabletop designs to specialized systems that include sorting, diverting, accumulating, inspecting, indexing, depalletizing, singulating and combining, to name but a few.
Advantage Conveyor's core business is producing stainless steel conveyors and ancillary systems for companies across the United States. These include meeting the specialized requirements of sanitary, washdown and USDA situations. We design everything from complete, turn-key systems that match your needs, to stand-alone components to augment an existing system. Our capabilities allow us to manage your project from start to finish: inception to design to fabrication to assembly to installation.
Our engineering staff can work from your drawings, or develop AutoCAD 2D & SolidWorks 3D drawings using your specifications…or a combination of both. We have extensive experience in designing and manufacturing conveyor systems for all industries, and can produce equipment to meet standard or specialized requirements.
Our conveyors and components are intelligently engineered to be high-performance and low maintenance, saving you money and minimizing downtime & production delays.
Fabrication and assembly is efficiently performed in-house by our experienced staff, which allows us to control the quality of the final product while meeting your required delivery date. If required, we can also install what we build.
We consistently deliver clean, reliable, user-friendly products to exact specifications. We honestly wouldn't be in our third decade if we didn't.
Welcome to Advantage Conveyor